Hi,
In the Help of SNAP 8.0, for Landsat 8, it is written that bands used as inputs are the blue, red, near_infrared, swir_1 and swir_2 in addition to the auxiliary bands (zenith and azimuth both for sun and view).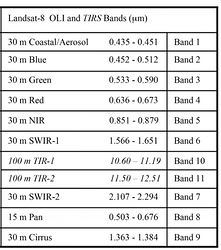 link:
https://landsat.gsfc.nasa.gov/landsat-8/landsat-8-overview
In this case, band 2 is supposed to be used. However, if I create a subset including band 2 instead of band 3 and run the Biophysical Processor, I would get an error for missing band at 560.0nm.
For Landsat 8, the wavelength of Green band (band 3) is 560.0nm. It is contradictory to what is written in the Help. I am confused about this. Could someone help me?