The problem
We are trying to compare multiple InSAR DEMs (derived from TerraSAR-X images) to identify topographic changes and measure volumetric change.
Before subtracting 2 InSAR DEMs they must be calibrated so that they represent the same absolute elevation on areas that did not change. We're struggling with this calibration step; e.g., we are having issues with tall buildings that have very different height in each InSAR DEM even after calibration (sometimes, positive height Vs negative height).
The data
We have computed InSAR DEMs from coherentT TSX image pairs for an urban area in the middle east. We then subtracted 2 InSAR DEMs to see where topography has changed and be able to measure volumetric change.
We selected the images with the smallest temporal baseline and largest perpendicular baseline. The DEMs were created using ESA's SNAP toolbox following these steps:
coregistration
interferogram computation
Goldstein phase filtering
multilooking
phase unwrapping (using snaphu + masking low coherence pixels)
phase to elevation (using SRTM 1 arcsec)
Range-Doppler Terrain Correction (using SRTM 1 arcsec)
NB: the same analysis was done with Iceye data as well. We observed similar calibration issues.
Tested methods
Before comparing 2 InSAR DEMs we aligned them, and calibrated them using SRTM DEM as ground truth. We tried different methods for the calibration:
method 1:Computed the error between the InSAR DEM and the SRTM DEM Fitted a plane to estimate the error (tried linear and quadratic fitting) Removed the estimated error from the InSAR DEM
method 2used the 3D coregistration methods of the xDEM python library NB: We tested all the 3D coregistration methods of that library
Both methods gave similar results.
Results
After calibration we differentiated the 2 InSAR DEMs. To assess the quality of the calibration we computed the RMSE of this difference. We basically expect the values of the difference to be close to 0 in most parts of the image except where terrain have changed (e.g., construction site).
Below is a InSAR DEM difference before (left) and after (right) calibration.

NB:
The InSAR DEMs used above were derived from TSX images
Empty pixels correspond to areas where the InSAR coherence was too low to trust the estimated elevation
Conclusion and remaining challenge
With the calibration applied we were able to bring down the RMSE of InSAR DEM difference from ~10m to ~6m.
However, we keep having issues with tall buildings, as well as and roads (maybe due to moving cars that corrupt the phase).
In the images below we have a tall building where the InSAR DEM difference remains above 15m (even after calibration).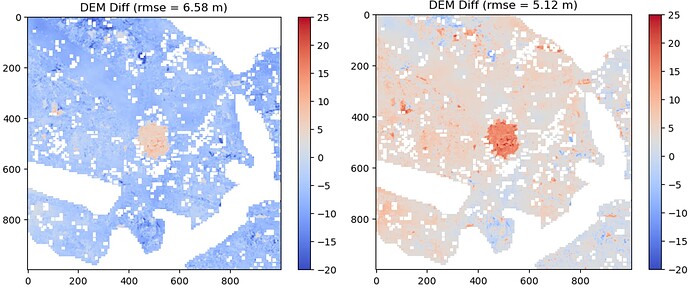 These are zooms of the same images presented in the 'result' section
Possible cause
Phase unwrapping is difficult for urban areas with tall buildings
Layover, foreshortening and foreshadowing result in inaccurate height estimations
Anyone has any ideas what we could try next to solve this issue?
Few ideas we haven't tried yet:
Mask out all tall buildings to avoid the problem (this assume to have a good building mask…)
Take an area with no or very little elevation change (desert area, or other stable no urban area) and redo DEM subtraction (to at least validate our calibration approach)