Hello everyone,
I am working on land deformation over a mining site using SBAS (MintPy). I have created 120 unwrapped interferograms where I am visually assessing them trying to discard the low quality ones (e.g phase jump). Below we can see the coherence, wrapped and unwrapped phase of the AOI where numbers correspond the the following dates. 1). 2021/01/29 - 2021/02/10, 2). 2021/01/29 - 2021/02/22, 3). 2021/01/29 - 2021/03/06
Coherence

Wrapped phase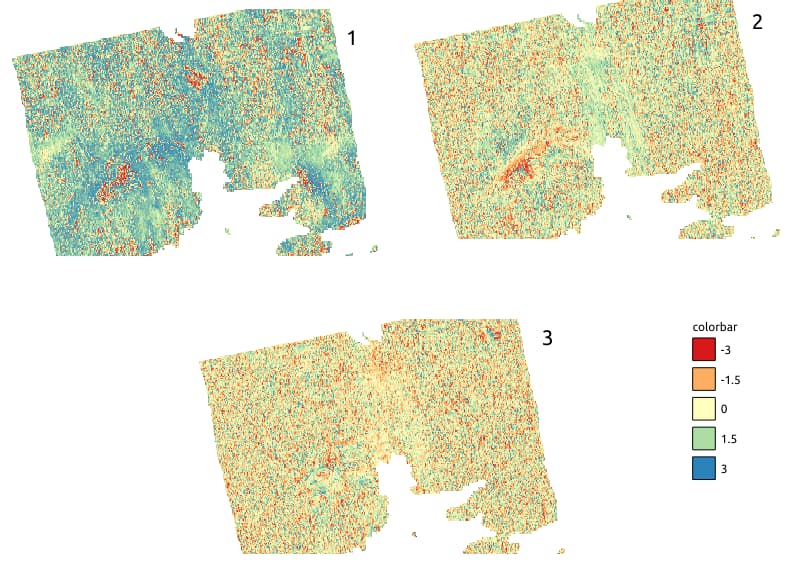 Unwrapped phase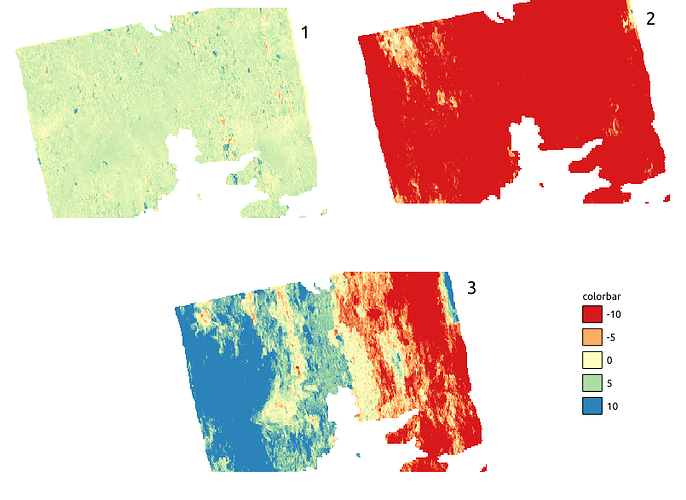 Looking at the unwrapped phase of (1) it looks good to me but for the other two, the unwrapped interferogram is completely different despite the fact hey share the same reference date. the unwrapped phase of number (2) is above -10 radians for the whole scene (it does not look normal to me) and for the number (3) we see lots of variation between -10 to 10 radians. Can this be due to tropospheric noise ?
My first though is to discard number (2) and (3) from SBAS processing in MintPy. I do not understand why there is such a huge difference amongst all three unwrapped interferograms. Does this has to do with 1) the low coherence of the area , 2) atmospheric noise or anything else?
There are quite a few interferograms in my analysis that look like the ones above. Am I right to assume that there is something wrong with those unwrapped phases and need to be discarded ?
One last thing, Does the positive values on the unwrapped phase indicate subsidence (signal travelling longer distance) and negative ones uplift? or is it the other way round
I would appreciate any comments or thoughts on this, especially by people that are more experienced in that filed such as @EJFielding @ABraun @qglaude