Hi there,
I'm new to the sentinel toolbox application but not to remote sensing, so I apologize if this is basic - I searched the forum first to see if my question was answered.
I'm trying to detect flooding with Sentinel 1, and this is my first time with radar data. I've been following the guide here: https://sentinel.esa.int/web/sentinel/user-guides/sentinel-1-sar/acquisition-modes/interferometric-wide-swath and have gotten good results after a few software hiccups. That said, when it comes time to threshold the image to separate water from non-water, that guide is vague. It looks like they just choose the value right at the left edge of the normal distribution in the histogram, but that's not clear.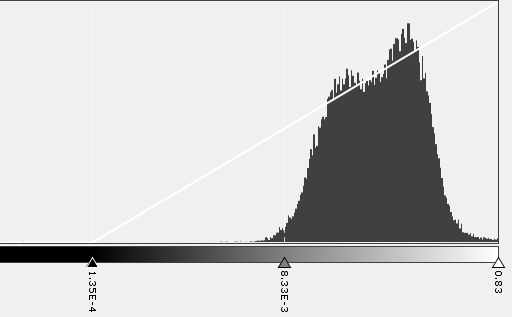 My own histogram (above) looks quite different from the one in that guide, and choosing the value just to the left of the main part of the distribution doesn't give results I think are valid. I've experimented with other values, and have found some that seem sensible, but the process of choosing a value felt too subjective. So I have a few questions, some specific to flooding and some to radar data:
Is there an accepted, relatively objective method for the threshold that separates mostly water from mostly non-water using Sentinel 1 data?
Can I compare the data to a prior date for the same location? I see the software has a change detection function (but I haven't read up on it yet) - would the intensity values be comparable, where I could simply compare the resulting image to a prior date's values and see which areas dropped significantly in intensity? I've been uncertain since it seems like the instrument can operate in different modes and may have different angles of capture.
Thank you for your help!