Hi,
I downloaded the following two Sentinel-1A products:
S1A_IW_SLC__1SDV_20160101T045559_20160101T045636_009296_00D6CE_50AA.zip
S1A_IW_SLC__1SDV_20160113T045559_20160113T045636_009471_00DBD1_5884.zip
By selecting VV polarization and IW1 subswath I have applied the following interferometric processing:
S-1 TOPS Coregistration (TOPSAR Split, Apply orbit file, Back-Geocoding);
Interferogram Formation;
S-1 TOPS Deburst;
Topographic Phase Removal;
Multilooking.
And I got these results for coherence and interferometric phase (I only used matlab to generate the maps):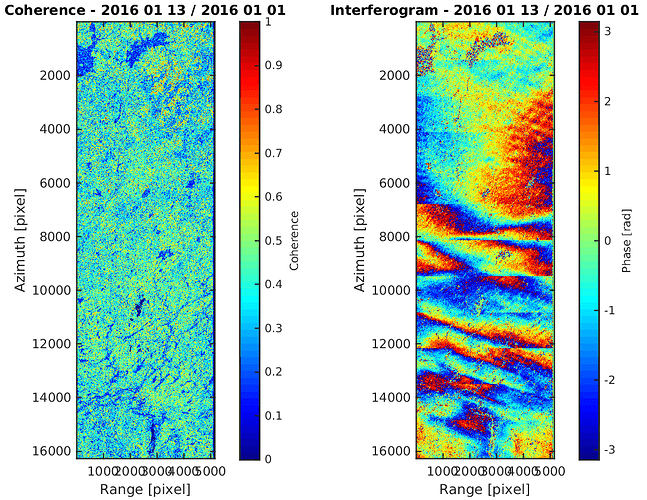 As we can see, there are some strange artifacts in interferometric phase which are clearly correlated with the bursts borders.
So in an attempt to mitigate these artifacts I repeated the processing but I used the "S-1 Enhanced Spectral Diversity" after the Coregistration step in the interferometric processing listed above. The results were even worse:
My question is: Is this the right approach to deal with this problem? If it is, am I doing something wrong? Why am I getting so bad results?
Thanks in advance.
PS: I'm using the precise orbits and the ASTER DEM.