Hello people,
I have a problem regarding the sen2cor Plugin. I can not get it to work correctly. If I try to process a L1C Sentinel-2 Product with Sen2Cor I am left with a black console window where nothing happens and an instantly disappearing progress bar. That's it. No error message.
I would like to explain to you the way I installed it, because the installation itself already caused some trouble and maybe there is a hint why it is not working at all.
At first I downloaded and installed SNAP from there:
http://step.esa.int/main/download/
With all its tool boxes. I am using SNAP 3.0 64Bit on a Win7 64Bit machine. I also tried it on a Win10 64Bit machine but the overall problem occurs there as well.
Then I followed the Sen2Cor Setup Manual exactly:
I downloaded Sen2Cor and the Manual from here:
http://s2tbx.telespazio-vega.de/sen2cor/
I downloaded Anaconda Python 2.7 64Bit and installed it. Successfully
I downloaded sen2cor-2.0.6.zip, extracted it and installed it with: "python setup.py install". It worked
According to the manual if "L2A_Process --help" does not return an error the installation was successful. Unfortunately it returend an Error:"ValueError: numpy.dtype has the wrong size, try recompiling"
After some research on Google and on this forum I noticed that Sen2Cor downgraded Anaconda's numpy. So I upgraded it manually:
pip install --upgrade numpy
pip install --upgrade tables
I tried L2A_Process --help again…it worked!
So I opened up SNAP and went: Tools -> Plugins -> Available Plugins -> Sen2Cor -> Install. After installing Sen2Cor and restarting SNAP I loaded a Sentinel-2 Product an tried to process it. The Sen2Cor properties Window opened. Apperently Sen2Cor requires 3 System variables: SEN2COR_HOME, SEN2COR-BIN and PYTHON_BIN. PYTHON_BIN did not have a path…Again I did a little research on this Forum and found out that I can create a Windows environment variable in the control panel.
I did it with the path to the python.exe of the Anaconda Environment. After restarting SNAP it PYTHON_BIN now had a path.
So again I tried to process my Sentinel-2 Scene. Nothing happens. The progress bar pops up: Starting Tool Execution 0%…then it disappears and I am left with a black console Window where nothing happens: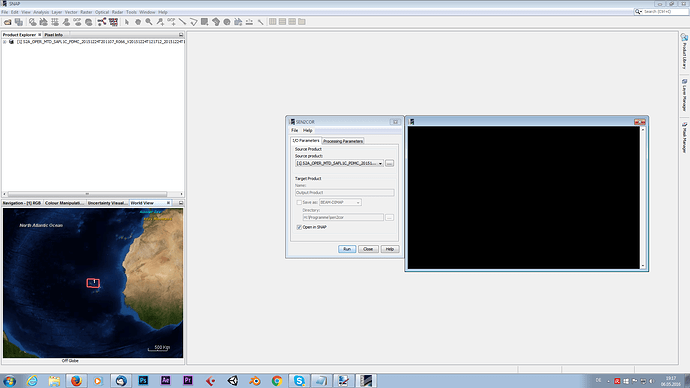 According to the Taskmanager the CPU does not do anything.
I researched this Forum a lot but nothing suits my problem.
I tried reinstalling everything, I tried a different machine, I tried a different Snap Version (2.0), I tried choosing different Resolutions (10,20,60), I tried to process it without SNAP (via Command prompt) and I tried everything withouth upgrading numpy manually. I am left clueless.
If you noticed anything wrong with my installation description or have any clue on what I could try to make it work I would appreciate it.
Best Regards
Omnishambles