Hello,
Following the TOPS Interferometry Tutorial, I installed the "snaphu" plugin on my SNAP 8.0 (Linux).
Now I have a snaphu file it in the adress bellow:
/home/sina/.snap/auxdata/snaphu-v2.0.4_linux/bin
(when I try to open the file with vim, the content is unreadable ascci characters. I am not sure if this is a sign of problem or not)
Now, when I try to do the unwarping on the folder created by the export step of the wrapped phase, which is the one bellow:
/home/sina/Documents/LIVE/SNAP/CEN-Lorraine/Change Detection/SLC/subset_0_of_S1A_IW_SLC__1SDV_20200528T054257_20200528T054325_032761_03CB7F_615A_split_Orb_Stack_esd_ifg_deb
I will get a path does not exist error (please see the image attached here):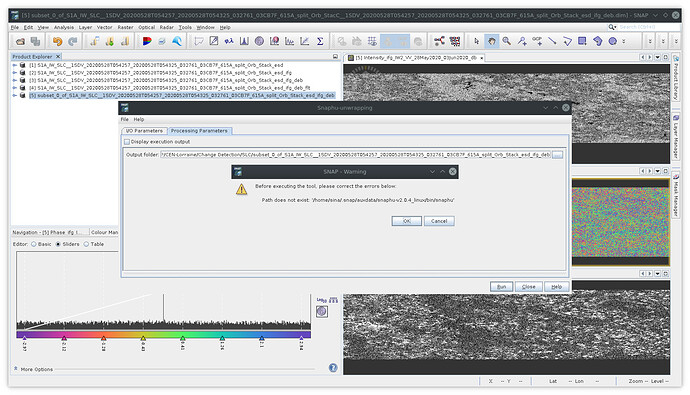 Now when I open the snaphu in the manage external tools to edit the addresses, to the best of my knowledge, the addresses are set correctly:

Should I add any of these addresses to the PATH variable? hasn't it done automatically when the plugin is installed on SNAP? Or maybe the address of the folder that I am using is too long?
I appreciate any hint on this