Hi all,
I am currently working with TDX data in CoSSC format and I am facing some problems to read them with SNAP. The scenes I have are from 2011 - 2015 whereas two scenes from 2015 aren't not readable. I got a java.lang.NullPointerException error.
org.esa.s1tbx.io.terrasarx.TerraSarXProductReader
[input=/Users/bbroschag/Desktop/dims_op_oc_dfd2_540552916_15/TDM.SAR.COSSC/1312681_001/TDM1_SAR__COS_BIST_SM_Q_DRA_20150908T011115_20150908T011122/TDM1_SAR__COS_BIST_SM_Q_DRA_20150908T011115_20150908T011122.xml]:
java.lang.NullPointerException

I know there might be a discussion about this issue earlier, but I did a bit try and error e.g. reducing the path etc. without any success. So I compared the scenes which are readable with them who aren't and I found out that not readable scenes have in total four intensity bands which might cause the error. See the figure below, left isn't readable and right is readable. Just to prevent misunderstandings, I want to open the TDM file not the single TSX/TDX files.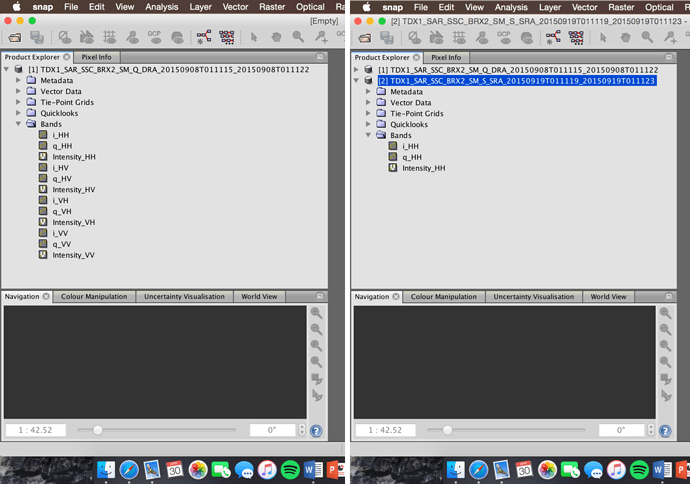 Maybe someone can help here.