Hi there,
I was wondering if someone would be able to help.
I have a number of Sentinel 1 sigma0 products, which I am trying to remove the dependency of the look angle, through the equation below:

I have the pre-processed products of

, as well as the exported Local Incidence Angles,

, and I have calculated values of B. The values of B are different for each product. If the value of B was constant (e.g. -0.15), I would use the band maths tool, as shown below: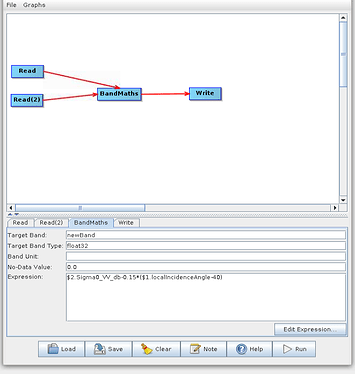 and use the xml file with the gpt to batch process. However, with varying values of B, I want to try to include them as an input file (such as through a third "Read" tool, but with a single value rather than a product).
Currently, the B values are within a separate .txt document (just as a placeholder, to make sure that the other batch of code works). This can be changed to other formats (.csv, etc).
Any help would be greatly appreciated.
Thanks