Hello everyone,
I am using the C2RCC operator in the last SNAP 6 release (beta 5) on Sentinel-2 MSI products to monitor river color.
After resampling the Sentinel-2 MSI product to 10 m with the resampling operator, I have run the C2RCC operator for S2-MSI sensor.
I got a strange result using many different observation for the same granule (T32TQQ). Specifically, the 'Chl' and 'TSM' concentrations (and also other reflectance bands) resulting from the operator have the same (wrong) estimated value for the first 5000 columns of pixels. In some cases also for the first 500 rows of pixels.
I attach a image showing the result.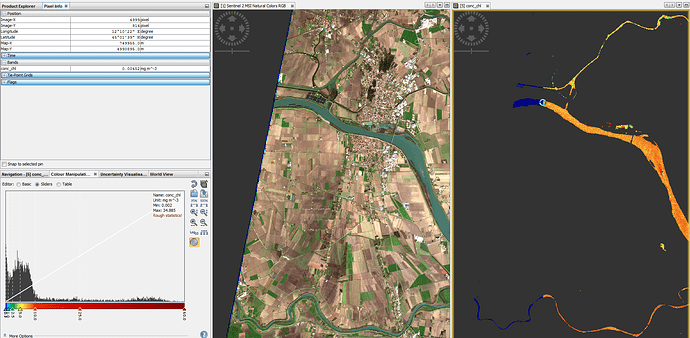 This happens also if I generate a subset from the granule and also if I export the resampled and subsetted product before running the C2RCC operator. Even if after the resampling they are less than 5000 columns in the entire image, the problem occurs at the same geographical location. It seems that this behaviuor affects only the products where the Sentinel-2 detector footprints do not cover the entire granule (with the Sentinel-2 swath limited to one part of the granule).
I have checked the Quality Flag of the input S2 L1C product and the resulting C2RCC product without finding any flag layer masking the affected areas. I also tried to change the tile dimension to '11000' in order to try to avoid the tiling of the Sentinel-2 image.
In order to help the developers solving the problem, one of the images affected by this problem is:
S2A_MSIL1C_20171127T100341_N0206_R122_T32TQQ_20171127T121327
Can be this problem only related with Sentienel-2 products with footprints not covering the entire granule?

Is this problem related to a NN training done only on one subset of the granule?
Hope this may help to find a solution.
Regards,
Federico