Hi,
In most cases each S2 archive contains only one granule for each MGRS grid name (though the spatial extents may overlap a lot, or sometimes completely). However, for about 200 archives there are duplicate grid names. For example, S2A_OPER_PRD_MSIL1C_PDMC_20160119T013846_R116_V20160117T002243_20160117T002334.zip contains:
S2A_OPER_MSI_L1C_TL_SGS__20160117T051155_A002973_T55KES_N02.01/
S2A_OPER_MSI_L1C_TL_SGS__20160117T051155_A002973_T55KET_N02.01/
S2A_OPER_MSI_L1C_TL_SGS__20160117T051155_A002973_T55KFS_N02.01/
S2A_OPER_MSI_L1C_TL_SGS__20160117T051155_A002973_T55KFT_N02.01/
S2A_OPER_MSI_L1C_TL_SGS__20160117T051155_A002973_T55KGS_N02.01/
S2A_OPER_MSI_L1C_TL_SGS__20160117T051155_A002973_T55KHS_N02.01/
S2A_OPER_MSI_L1C_TL_SGS__20160117T070701_A002973_T55KDS_N02.01/
S2A_OPER_MSI_L1C_TL_SGS__20160117T070701_A002973_T55KES_N02.01/
S2A_OPER_MSI_L1C_TL_SGS__20160117T070701_A002973_T55KFS_N02.01/
S2A_OPER_MSI_L1C_TL_SGS__20160117T070701_A002973_T55KGS_N02.01/
S2A_OPER_MSI_L1C_TL_SGS__20160117T070701_A002973_T55KHS_N02.01/
Note that KES, KFS, KGS and KHS are encountered twice, with different processing times.
The granule XML files show different sensing time as well. For the KHS granules, they are:
For 20160117T051155_A002973_T55KHS:
<SENSING_TIME metadataLevel="Standard">2016-01-17T00:22:43.886Z</SENSING_TIME>
For 20160117T070701_A002973_T55KHS:
<SENSING_TIME metadataLevel="Standard">2016-01-17T00:23:34.395Z</SENSING_TIME>
These times 22:43 and 23:34 happen to correspond exactly to the start and end time shown in the archive's filename.
They are mostly spatially distinct, but in the area of overlap their values are either the same or differ by just a few units, so it seems that they represent two different passes over the same data using different tiling schemes.
The two different coverings don't necessarily fall into the same grid tiles. Granules with the same product times in the id have the same SENSING_TIME in the metadata.
I'm a little unsure how to interpret them - are they two valid observations, or should one group with either earlier or later processing time be discarded?
First: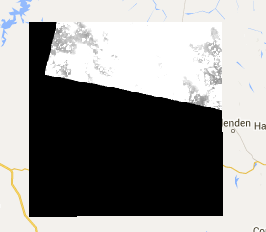 Second: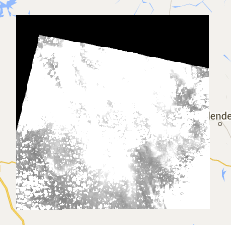 Diff (large black and white areas are taken by only one image, the speckled gray area in the middle is overlap):