Hi, can anyone please let me know how to select master/slave images using SBS method?
One option to use vertex ASF's data https://www.asf.alaska.edu/
When you defined all your granules as below, select the baseline tab,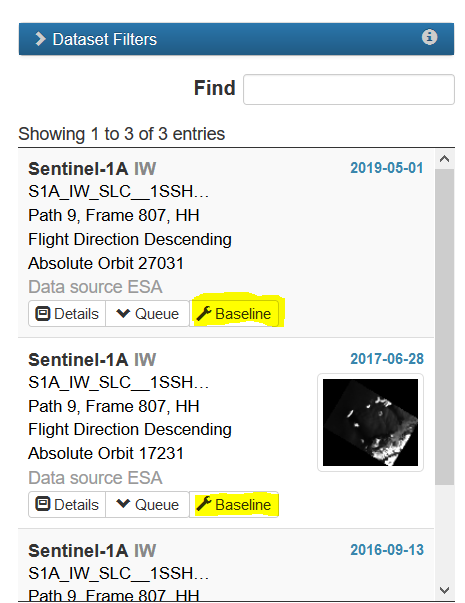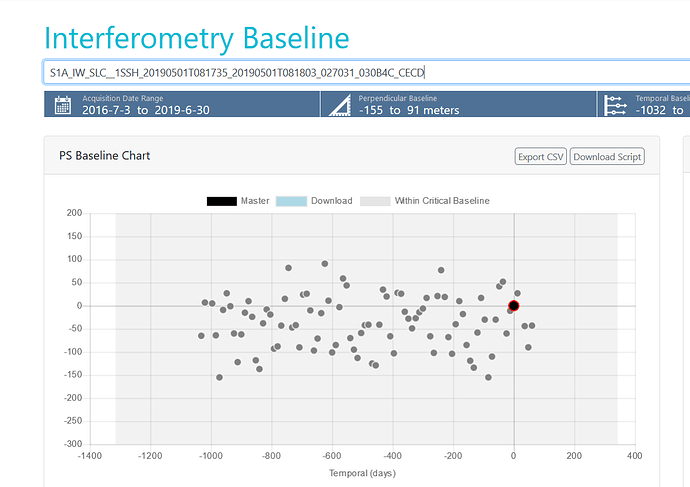 Also I found this post to you now, Source of the post : ASF baseline tool to identify,
But the problem in the PS Baseline Chart switch to SBAS beta is not active, I don't know why , you could send them a message and ask,
have you worked on SBAS InSAR, if no, anyone who worked? Please suggest me. Thank You
Using other sw, GAMMA, which is commercial, but so far preparing data in SNAP for SBAS , it's not supported atm.
We are planning to support SBAS in SNAP 8.0 via the 3rd party InSAR tool PyRate.
Thank you. Is it working now?
@Waqas better ask the developers of PyRate - just google for them. the guys are open for questions.
MintPy is another option (I have not looked in PyRate yet - there is too many options right now it is so hard to choose!).
Check my post and the MintPy wiki. More people looking at the problem = better solutions!
You can now ingest .dim files directly into Mintpy for small baseline processing.
In terms of master / slave selection - you can use the method below from:
Fattahi, H., P. Agram, and M. Simons (2016), A Network-Based Enhanced Spectral Diversity Approach for TOPS Time-Series Analysis, IEEE Transactions on Geoscience and Remote Sensing , 55 (2), 777-786, doi:10.1109/TGRS.2016.2614925.

This way you are creating a redundant network - in my testing in a rural area it looks like up to n=4 makes sense with Sentinel-1.