Hello,
After phase unwrapping, I tired to convert the phase values into height but the resultant values look too strange to me. In this regards, please guide me that:
what do these height values represent?
how to interpret the results?
whether it is height of the object from ellipsoid or it is distance of the satellite from the object or anythingelse?
Work flow: 1. Co-registration, 2. Interferogram Formation & Coherence Estimation, 3. Deburst, 4. Phase Filtering
5. Phase unwrapping, 6. phase to height conversion, 7. Terrain Correction.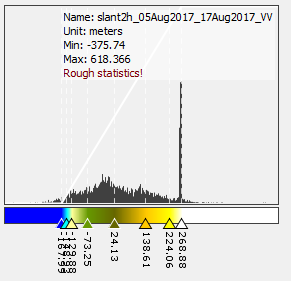 (Sentinel-1A, SLC, IW-1, Polarization:VV, Study Area: Karachi City Pakistan)