Sorry if I confused you. And my apologies for saying that DInSAR may not give reliable results.
Below is the results I obtained for the road line (600m away from the main AOI) which we suspect that is not affected by the tunneling activity. This is related to my previous post. Our assumption is, since this road line it is not affected by the tunneling activity, it should not have any displacement (say DInSAR should give zero values). But I wonder if this is absolutely true when doing DInSAR. That even if we have absolute no ground movements, DInSAR might still give non-zero measurements. I know there are other factors to be considered here as you have enumerated awhile ago.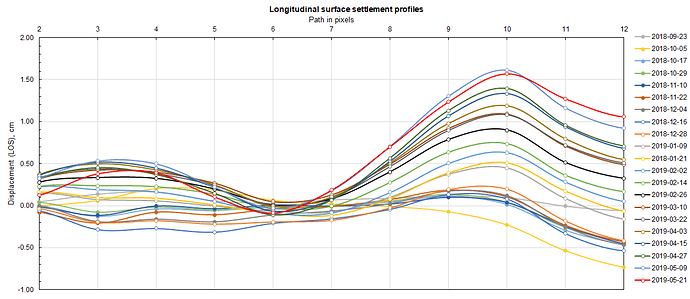 As I have mentioned, at first, I expected that all displacement profiles will converge (to zero or may not zero) to support our assumption. But it didn't.