I am trying to perform PSI using Envisat images and i have already created PSI export using SNAP 6.0 and have the exported files saved in a file named INSAR Master_date directory. I want to install StaMPS v 3.3b1.I have changed the lat lon file name inside geo file(suggested by katherine)
i am stuck in this two steps: 11/ run mt_prep_gamma from the INSAR_masterdata directory. mt_prep_gamma masterdata /fullpath to the INSAR_masterdata directory 0.4
12/ run matlab and launch StaMPS.
When i try to run the command mt_prep_gamma_snap yyyymmdd /home/fyp/Documents/INSAR_master_date/ 0.4 the "gawk:command not found" is shown and also the error like this image(found it from the topic linux installation using Stamps and S-1 data" )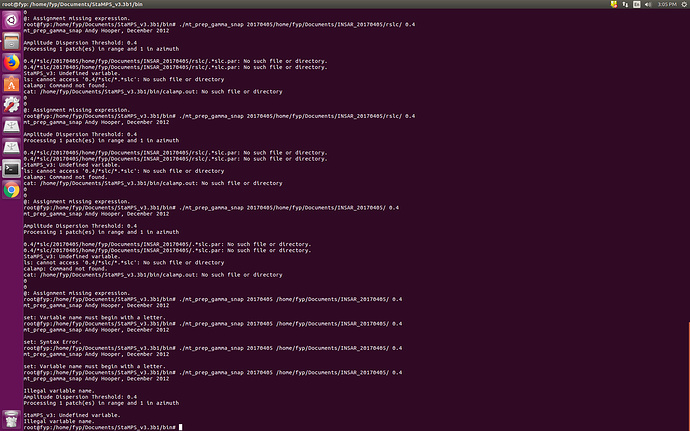 note that i have not edited inside the mt_prep_gamma_snap and i am using the changed file uploaded by Feiliu and pasted them in bin and matlab respectively.
I have downloaded the gawk 4.2.0 and extrated it from tar file.but i do not know how to install it or what commands to write to ensure that "gawk:command not found" error is corrected along with the other errors. Also I am not well experienced in using linux and writing commands.
It will be a great help if anyone can explain how to install StaMPS and Matlab in linux for the purpose of PSI.
Also I am following the recommendations from topics discussed in this forum like linux-installation-using-stamps-and-s-1-data,workflow-between-snap-and-stamps. But i am very confused about the steps mentioned in StaMPS manual as I can not figure out what codes i can write that will help me to perform PSI.
I am very new to all these,please help me with solutions.