Hi everyone!
My research territory is the Volga river delta (Russia) and I want to create a DEM on this territory. I was prompted that the DEM will not be accurate because of the territory, but I'm interested in the process of DEM creating.
What I use? I have two Sen1 data, for examle, S1A_IW_SLC__1SDV_20180904T143846_20180904T143912_023550_029096_5D58 and S1A_IW_SLC__1SDV_20180916T143846_20180916T143912_023725_029633_5AA5.
I read Alaska tutorial and forums .
So, after that I started DEM creating process.
1. S1 TOPS Coregistration. Only IW2 swath, Bursts 4-7, VV band.
2. Interferogram Formation (Default options used)
3. S1 TOPS Deburst (Default options used)
4. Goldstein Phase Filtering (Default options used)
5. Snaphu Export ( MCF, TOPO), unwap and import

I thought, that everything is OK, but at the last step - Phase to elevation - I saw this - balck product.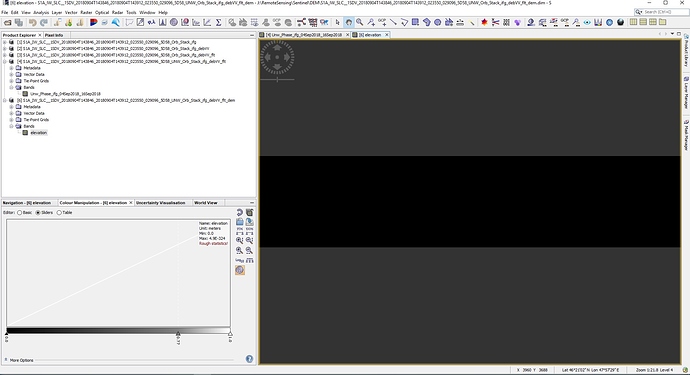 And I dont know what is wrong. Can anybody help me?
I also used another S1 products, but the result you can see.
Maybe I'm inattentive and did something wrong, I don`t know…